Metal Braces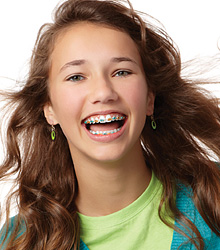 Our mini series brackets are small, low-profile brackets made of the highest quality material. These brackets, in combination with the use of wires made of "space age" materials, exert a steady, gentle pressure on the teeth and allow the tooth-moving process to be faster and more comfortable for patients. Donut shaped elastics are placed around each bracket to engage the wire in the brackets. These elastics can be chosen in different colours which are changed at each adjustment appointment (every 4-6 weeks).
Getting Braces On
The procedure for getting braces is easy and painless. Watch our video to see how it works.
Getting Braces Off - Retainers
Watch out video to see how we remove braces and provide information on retainers.
Common Treatments / Dentofacial Orthopedics / Surgical Orthodontics / TADs / Metal Braces
Clear Braces / Invisalign